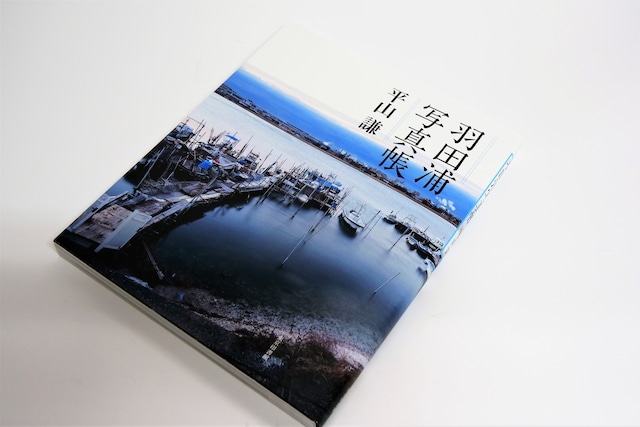 平山謙写真集 羽田浦写真帳
-発行日: 2023/5/1
-判型:B5縦変型判 232×185mm
-頁数:148 ページ
-印刷:プロセス4Cオフセット
-製本:クータバインディング
-用紙:ユーライト、里紙 雪

本書には、写真家 平山謙氏が自身の暮らす多摩川138キロの河口が広がる東京都大田区萩中、平山氏が「羽田浦」と呼ぶ地域を十数年に渡り撮影した写真が収められています。

川沿いに咲く菜の花や桜、川辺で遊ぶ子どもたち、釣り人たち、ソロバンのある豆腐屋さん、野菜と魚の両方を売る店、羽田神社の夏祭り、ウグイスやユリカモメ、ここにあるのは、この地で暮らす人々の日常の光景であると同時に、私たちの周りにも通じる懐かしい光景です。江戸東京の暮らしを写した写真でありながら、私たちの郷愁を誘うものとなっています。

「羽田浦」の自然豊かな景色、そこで暮らす人々の生活、四季のうつろいをお感じいただける写真集です。

-Title: Hanedaura Shasin-Cho
-Date of issue:May 1, 2023
-Size: 22
2×185mm, 148 pages
-Tone reproduction:Process 4C offset printing
-Binding: Cooter Binding
-Paper: Uright,Satogami Yuki

This book contains photographs taken by photographer Ken Hirayama over a dozen years in the area where he lives, Haginaka, Ota-ku, Tokyo, where the mouth of the 138-kilometer Tama River stretches, and which Hirayama calls "Hanedaura".

Rape blossoms and cherry blossoms along the river, children playing by the river, fishermen, a tofu shop with a soroban, stores selling both vegetables and fish, a summer festival at Haneda Shrine, cormorants and Eurya gulls, these are the everyday scenes of the people living here, as well as nostalgic scenes familiar to us all. While these photographs depict life in Edo Tokyo, they also evoke nostalgia.

This collection of photographs offers the rich natural scenery of Hanedaura, the lives of the people who live there, and the changes of the four seasons.
Add to Like via app
Reviews

(5)

Shipping method / fee

Payment method